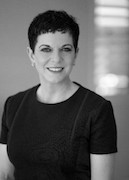 Trustee of the Asia Foundation
A media entrepreneur, company director and philanthropist, Deanne Weir has more than 25 years' experience in media, communications and the law. A former corporate lawyer, Deanne has a deep interest in how new forms of media affect business and society, and a passionate commitment to gender equality.
Deanne leads the boards of three private companies in which her company WeirAnderson.com is an investor: Hoodlum, an Emmy and BAFTA award winning film and television production company; Ai-Media, a technology and social innovation company; and Seer Data & Analytics, a technology start-up that helps the social sector make better decisions through the use of data and insights. All 3 of these companies started life in Australia and are now expanding across the globe. WeirAnderson.com also has investments in music, publishing and technology companies.
In 2012, Deanne and her husband Jules Anderson launched The WeirAnderson Foundation. The Foundation supports organizations and projects that improve the lives of women and girls. Organizations supported include the International Women's Development Agency, of which Deanne is a past board member and Global Sisters, an Australian not-for-profit assisting women entrepreneurs, where Deanne is a current board member. Deanne is a member of Women Moving Millions, and was previously chair of the Australian Women Donors Network, both philanthropic organizations seeking to increase the amount of social investment reaching women and girls. Deanne is a frequent guest speaker at media, corporate and philanthropic events, and advisor to business and philanthropic leaders.
A board member of Screen Australia for eight years until 2016, Deanne was instrumental in the development of its Gender Matters program. She remains a member of its Gender Matters Taskforce, and is also chair of the Sydney Film Festival. Deanne is also chair of The Grata Fund, an organization that assists Australian citizens to bring important litigation to push back against unfair laws and policies in the areas of human rights, climate change and democracy. An investor in various screen projects, including documentary and feature films, Deanne was executive producer of Hoodlum's first feature film, Australia Day (2017), and also I Used to Be Normal (2018) an independent feature documentary that premiered at Toronto's 2018 Hot Docs Festival.