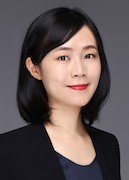 Former Program Officer, China
Hao Yang left the Foundation in 2021.

Hao Yang previously oversaw the Asia Foundation's Women's Empowerment and Child Protection programs in China, including projects of preventing and responding to gender-based violence, strengthening women's economic empowerment, enhancing gender responsiveness of China's foreign investment, and addressing violence against children.
Before joining the Asia Foundation in 2017, Hao Yang worked as monitoring, evaluation and research manager and gender advisor with Plan International. She led Plan International's China office in improving the monitoring and evaluation system and mainstreaming gender equality in the organizational operations as well as programs of child protection, disaster risk management and early childhood development. Before that, she worked as a Gender Equality and Capacity Building advisor with Voluntary Service Overseas in Nepal and provided strategic guidance on promoting gender equality and women's and girls' rights in programs of education, health, and livelihood.
Hao Yang also served with UN Women as consultant and later on as program coordinator for more than three years, responsible for program portfolios of promoting migrant workers' labor rights, women's political participation, gender responsiveness in climate change and disaster risk management, and addressing issues of violence against women and HIV/AIDS.
Education: Hao Yang holds a bachelor's degree in English for International Business Management from the Guangdong University of Foreign Studies and a master's degree in Gender and the Media from the London School of Economics and Political Science.  Additionally, she is a global shaper for the World Economic Forum.