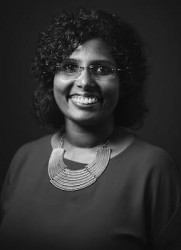 2017 Asia Foundation Development Fellow
Former Trustee of the Asia Foundation
Urban Development Policy Researcher, Sri Lanka
Iromi Perera is a Colombo-based researcher and activist. She works on land rights and spatial justice, with a focus on development and dispossession in post war Sri Lanka. At present, she is the Asia consultant for the Bank Information Center, a Washington D.C.-based independent, nonprofit, nongovernmental organization that advocates for transparency, accountability, sustainability, and inclusion in development finance. Iromi is also currently a co-investigator leading the research work in Colombo for two multicountry research projects funded by the UKRI's Economic and Social Research Council, studying human-infrastructure interactions in the context of urban crises and urban change.
She has been a consultant researcher for the Law and Society Trust in Sri Lanka since 2019 and is a member of the People's Alliance for Right to Land. From 2008 to 2017, Iromi was a senior researcher at the Colombo-based think tank Centre for Policy Alternatives, where she led their survey research work.
She currently serves on the board of The Asia Foundation as a term trustee and on the board of the Centre for Equality and Justice, a women's rights organization based in Colombo.
Iromi was Fulbright Professional Scholar in 2015 and was based at the Urban Institute in Washington, D.C as an Academic Visitor at the Institute's Center on International Development and Governance. In 2017 she was selected as an Asia Foundation Development Fellow. In 2020 she was featured in Cosmopolitan Sri Lanka on their 35 under 35 list of women leading change.