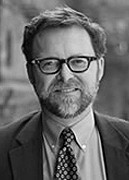 Senior Director, Technology Programs
John Karr is the senior director of The Asia Foundation's Technology Programs team where he leads an Asia-wide effort to launch and grow projects focused on information technology and innovation. His current focus is on the role of online platforms in international development; the future of work; and distributed systems and blockchain technologies in the Asia Pacific. John also works closely with local developer groups and tech entrepreneurs in Asia to support the development of new solutions to regional development challenges. As the director of The Asia Foundation's Online Platforms and Inclusive Growth Project, John leads efforts to promote learning on topics related to platform economies and inclusive growth, and encourages dialogue between the Asia Pacific policy community and the private sector. John also directs the Foundation's efforts to focus on blockchain technologies by bringing together the private sector, government, and civil society organizations to develop partnerships and identify new opportunities and follow through for pilot blockchain initiatives.
John has worked on projects throughout the region including in Indonesia, Thailand, Malaysia, Myanmar, Nepal, Afghanistan, Vietnam, China, and North Korea. Prior to serving in his current position, John established and led a cross-functional team that was responsible for developing a variety of civic engagement APIs, analytics and data visualization tools, and mobile applications with local partners in Asia.
Education: Bachelor's degree from the University of California at Santa Cruz in Economics, and a master's degree in Public Administration from the University of Washington.