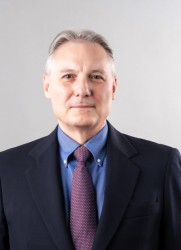 Former Senior Director, Environment Programs
Kim DeRidder formerly served as senior director for Environment programs. He oversaw program development and implementation in all Foundation programming related to the environment, including programs addressing climate change, natural resources management, green growth development, and disaster risk management. One of the Foundation's major program area directors, Kim was responsible for the Foundation's vision and strategic direction on environmental programming and ensuring best practices and quality assurance in program design and implementation throughout the region.
Kim DeRidder has more than 30 years of experience in program management and leadership within the region, including nearly five years as the Foundation's director of Programs for Laos and assistant representative for Thailand from 1991 to 1995. During this early phase of his career, Kim is credited with pioneering some of the Foundation's earliest environmental programs, including a natural resources management initiative with the Lao Government in the context of the country's then newly developing open economy; a civil society advocacy initiative in Thailand that strengthened participation and access in national and local environmental policy and process; and regional environmental cooperation initiatives for the Mekong region.
Prior to rejoining the Foundation Kim served as managing director for the World Wildlife Fund (Indonesia), country director for the Nature Conservancy (Indonesia), chief of party and team leader/facility manager for forest and climate change projects in Indonesia for USAID and AusAID, respectively, and chief of party for two separate peacebuilding and conflict mitigation projects for USAID (Indonesia, Sri Lanka). He began his career as associate regional director for Planned Parenthood, based in Bangkok and covering 15 countries in Asia and the Pacific.
Education: Bachelor's degree from the University of Tennessee in Interdisciplinary Research, a master's degree in Public Affairs from the University of Texas, and additional graduate studies in environmental policy from the University of California.