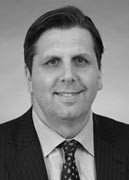 Former Trustee of The Asia Foundation
Former Vice President, Boeing International
Former U.S. Ambassador to the Republic of Korea
Ambassador Mark W. Lippert served on The Asia Foundation's Board of Trustees from 2017 to 2022. He was formerly vice president of Boeing International, based in Washington, D.C. where he handled a global portfolio cutting across commercial, defense and services issues. An Asia expert with long experience at senior positions in the United States Government, Mr. Lippert served as the United States Ambassador to the Republic of Korea, chief of staff to the Secretary of Defense, Chuck Hagel, assistant secretary of Defense for Asian and Pacific Security Affairs, and chief of staff and deputy assistant to the President at the National Security Council. Prior to serving in the Executive Branch, Mr. Lippert worked in the United States Senate for 10 years including serving as then-Senator Obama's representative to the Foreign Relations Committee, a professional staff member on the Senate Appropriations Committee working for Senator Patrick J. Leahy on the State-Foreign Operations Subcommittee, and as a foreign and defense policy advisor to Senator Tom Daschle.
Mr. Lippert's also served as an intelligence officer in the United States Navy, with deployments to Iraq, Afghanistan and other overseas locations supporting Naval Special Warfare (SEAL Teams). His military awards and decorations include the Bronze Star Medal for his service in Iraq, the Defense Meritorious Service Medal, and the Basic Parachutist Badge. He is also the recipient of the Department of Defense's Distinguished Public Service Award and the Department of the Navy's Distinguished Public Service Award.
Mr. Lippert graduated Phi Beta Kappa from Stanford University with a bachelor's degree in Political Science and holds a master's degree in International Policy Studies from the same institution. He studied Mandarin Chinese at Beijing University and Korean language at the Foreign Service Institute and Post Language Program. Mr. Lippert is married to Robyn Lippert, who works as vice president of a major health care company. They have two children and a basset hound.