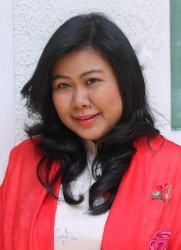 Manager, Special Projects Unit, Myanmar
Mi Ki Kyaw Myint is manager of the Special Projects Unit at The Asia Foundation's Myanmar office. She joined The Asia Foundation in early 2013 as one of the first key staff members to reestablish a country office in Myanmar and provided critical support to the senior management team. Under the Special Projects Unit, she manages and implements a wide range of dynamic activities to support Myanmar's transition towards democracy, peace, stability, economic development, and social justice. Over the past six years she has led on implementing impactful program activities including the Books for Asia and Let's Read programs, support to school and public libraries, engagement and capacity building for the Ministry of Foreign Affairs and Union Parliament, children's literacy, mobile and digital information literacy, and multiple fellowships and exchanges.
She has a diverse program management portfolio that included developing MaePaySoh (Let's Vote)—Myanmar's first voter education initiative through web and mobile applications that offered the country's fast-growing internet user base a way to learn about the electoral process and scrutinize the candidate; managing projects to counter human trafficking through Myanmar's public and community libraries; and educating adolescent girls from conflict-affected areas about human trafficking and risky migration. She is one of the key authors of Women's Political Participation in Myanmar: Experiences of Women Parliamentarians 2011–2016. She convenes the nationwide Women MPs Forum annually and provides capacity building support to women parliamentarians at national and subnational levels.
She has extensive experiences in coordinating with the senior-most levels of government and running high profile events in Myanmar. She works on country-level specific projects as well as regional projects funded by different donors including private donors.
Education: Master's degree in Responsible Management and Sustainable Economic Development from the University for Peace in Costa Rica and bachelor's degree in Business Administration from Lingnan University in Hong Kong.
Email:
miki.myint@asiafoundation.org