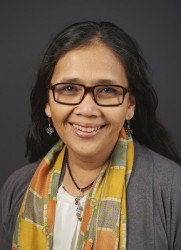 Country Representative, Indonesia
Sandra Hamid is The Asia Foundation's country representative to Indonesia. Formerly she served as the senior director for programs in the Jakarta office from 2008-11, and has also held positions as the Aceh programs director (2004-08) and elections program manager (2003-04). A cultural anthropologist and development specialist with strong interests in political participation and civil society, Sandra has twenty years experience as a journalist, researcher, and development professional, nine of those years with The Asia Foundation.
With the Foundation, she has designed and implemented programs in the areas of political participation, knowledge and policy, governance, gender, law, and religious freedom. Prior to this, she was a writer, researcher and international development consultant working in Indonesia, East Timor and the United States. She has extensive political experience, having served in one of the first political parties formed immediately after Suharto's resignation.
A two-time recipient of The Asia Foundation's Presidential Award for Exceptional Performance and a Draper Hills Summer Fellow on Democracy and Development at Stanford University, Hamid is also a former Fulbright Scholar.
Education: Doctor of philosophy degree in Anthropology at the University of Illinois at Urbana-Champaign.
Phone:
+62 (21) 7278-6557
Email:
sandra.hamid@asiafoundation.org