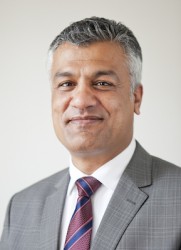 Country Representative, Afghanistan
Abdullah Ahmadzai is The Asia Foundation's county representative in Afghanistan. He oversees the Foundation's wide range of programs in the areas of Governance and Elections, Islam and Development, Women's Empowerment and Education, as well as the annual Survey of the Afghan People. Ahmadzai served as deputy country representative from 2012 to 2014. A seasoned development professional with expertise in national election administration, Ahmadzai was formerly chief electoral officer for the Independent Election Commission (IEC) of Afghanistan. As head of the IEC Secretariat, he oversaw the 2010 elections for the Lower House of the Afghan Parliament; the first fully "Afghanized" national election involving limited technical support from the international community.
Prior to his position with the IEC, from June 2006 to October 2009, Abdullah Ahmadzai worked with the Foundation, serving under the Support to Center of Government project in Afghanistan, first as a senior national capacity building advisor and later as deputy chief of party and chief of party. In each of these roles with the Foundation, Ahmadzai served with distinction. Between 2004 and 2006, he held positions with the UN under the Joint Electoral Management Body Secretariat, first as an area manager and then as chief of Operations.
From 2003-2004, Ahmadzai was actively involved with the Afghanistan Constitution Commission which was mandated by the 2001 Bonn Agreement to draft a new constitution for the country. Under the Commission, he assisted with the Emergency Loya Jirga and later the drafting of the constitution which was formally adopted in January 2004.
Education: Bachelor's degree in Information Technology from Brains Degree College in Peshawar, Pakistan, in addition to several workshop certificates earned through Harvard and Georgetown Universities, and the International Foundation for Electoral Services.