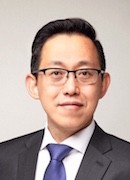 Senior Advisor, Korea
Kwang W. Kim is the former country representative of The Asia Foundation's office in Korea. He has advised cabinet ministers and C-suite executives of Fortune 500 companies on global competitiveness, growth strategies, sustainability solutions, and global value chains in Asia, Latin America & the Caribbean, North America, Africa, and the Middle East.
Kim brings a global perspective on development practice and trends, including innovative approaches to complex development issues and the UN Sustainable Development Goals (SDGs). Previously, Kim was the regional lead for International Finance Corporation (the private sector arm of the World Bank Group) in its Sustainable Business Advisory Services in Latin America & the Caribbean, as well as other partners, in de-risking investments, impact investment, and mainstreaming Environmental Social Governance in the investment process through advisory services.
Kim served in advisory roles to the governments of Panama and the United Arab Emirates on economic diversification strategies. In South Asia, he advised the public and private sectors on strengthening the competitiveness of the mining, tourism, and agribusiness sectors in the tribal areas of Pakistan. He co-edited and authored chapters in the 2008 State of Pakistan Competitiveness Report along with several reference guides on competitiveness and public-private initiatives for World Bank Group project staff.
Kim previously worked as a management consultant, including with Monitor Group in Cambridge, and in São Paulo, where he authored a case study on the Brazilian airline industry. With Monitor colleagues (later known as OTF Group), he authored a chapter in the book, In the River They Swim: Enterprise Solutions to Poverty (2009), which included contributions by his excellencies Ashraf Ghani of Afghanistan and Paul Kagame of Rwanda on translating enterprise approaches into national development strategies.
Kim currently serves on the board of Conservatorio Urban Innovation, the strategy arm of a global investment fund focusing in urban revitalization. He has adjunct faculty appointments with Georgetown University's Landagger Program in International Business Diplomacy, and with Hanyang University School of Business.
Education: Bachelor's degree in Economics from Loyola Marymount University and a master's degree in Law and Diplomacy from the Fletcher School at Tufts University.