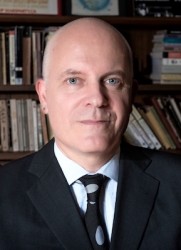 Country Representative, Myanmar
Mark McDowell is country representative for The Asia Foundation in Myanmar. He oversees the Foundation's work in building the country's capacity for regional and global integration; strengthening institutions and processes of democratic governance; contributing to informed dialogues on the peace process; supporting initiatives for inclusive economic development; and promoting women's empowerment and political participation.
A career diplomat with 20 years of management experience in Asia, McDowell has spent the last seven years working in Myanmar, first as Canada's Ambassador from 2013-2016 and later as country director of the International Institute for Democracy and Electoral Assistance (IDEA) beginning in 2016.
In his two decades with the Canadian Foreign Service, he also served as counselor for Public Diplomacy, Embassy of Canada in Beijing; counselor for Political and Economic Affairs, Embassy of Canada in Bangkok; deputy director for Aboriginal and Circumpolar Affairs, Foreign Affairs and International Trade Canada, Global Issues Bureau; director for Political and Public Affairs, Canada Trade Office in Taipei, and as delegate to the UN General Assembly for the Canadian Mission to the UN.
Education: In addition to doctoral studies in political science with a focus on environmental policy in Indonesia, McDowell holds a master's degree in Public Administration from Harvard University, as well as a master's degree in East Asian Studies and a bachelor's degree in History and Philosophy, both from the University of Toronto.