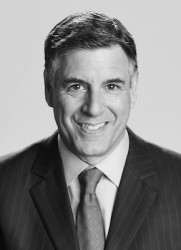 Trustee of The Asia Foundation
Markos Kounalakis, Ph.D. is an author, publisher, journalist, and scholar. During the 1980s and 1990s, Dr. Kounalakis worked as a foreign correspondent, covering wars and revolutions for Newsweek and as the NBC-Mutual News Moscow correspondent. He reported on the fall of the Berlin Wall and lived in the Soviet Union during its collapse. His assignments included the overthrow of communism in East Germany, Czechoslovakia, Hungary, Romania, and Bulgaria. He reported the Soviet war in Afghanistan and the outbreak of ethnic strife and war in Yugoslavia. He was based in Rome, Vienna and ran Newsweek's Prague bureau. Dr. Kounalakis became president and publisher of the Washington Monthly magazine and chairman of the Internews Network.
Kounalakis is currently a Central European University senior fellow at the Center for Media, Data and Society and a visiting fellow at the Hoover Institution. He writes a weekly syndicated foreign affairs column for the Miami Herald and McClatchy. He is a presidentially appointed member of the Fulbright Foreign Scholarship Board and a board member at USC's Annenberg School for Communication and Journalism, USC's Center on Public Diplomacy, and at America Abroad Media. He lives in San Francisco with his wife, California's Lt. Governor, Ambassador Eleni Kounalakis, and their two Mandarin-speaking teenaged sons, Neo and Eon.