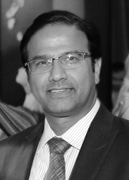 Vice Chair of the Board and Executive Committee
Vice Chancellor, IFMR, Chennai, India
Distinguished College Professor of International Economics, Middlebury College, USA [on Leave]


Sunder Ramaswamy joined the Board of Trustees of The Asia Foundation in 2012 and became a vice chair of the board and member of the Executive Committee in 2014. He is currently the Vice Chancellor Designate of IFMR University, in Sri City, near Chennai, India, and is on leave from Middlebury College, where he is a Distinguished College Professor of International Economics. IFMR is a leading business school, recognized as an Institute of National Importance by the Ministry of Finance in India. In addition to postgraduate and doctoral degrees in Business, IFMR conducts and hosts' cutting-edge research centers in the areas of finance and development, poverty alleviation, digital finance and financial inclusion, in collaboration with Jameel Poverty Action Lab (MIT), Gates Foundation, and others. Ramaswamy is also working in collaboration with other academics, entrepreneurs, and philanthropists to establish one of the few residential liberal arts universities in India designed specifically to help students prepare for impactful leadership in the dynamic, uncertain, and complex world of the 21st century. Since 2016, he has also served as vice chair of the Board of Directors of the American International School in Chennai.
From 2009-2015, Ramaswamy served as the president of the Monterey Institute of International Studies (MIIS) [now Middlebury Institute of International Studies at Monterey] overseeing its formal integration as a graduate school of Middlebury College. At MIIS, he oversaw an ambitious academic reorganization of the existing Graduate schools, a successful completion of the merger of MIIS with Middlebury College, handover of the reaccreditation process from WASC to NEASC (including a successful 10-year combined NEASC reaccreditation in 2011-12), accelerated fund raising, and increased Institutional visibility. During his tenure, the Institute successfully launched new graduate degree programs in nonproliferation and terrorism studies, international education management, and international trade and economic diplomacy, as well as three new research centers (the Center for the Blue Economy, the Center for Conflict Studies, and the Center for Social Impact Learning), a Cyber Security initiative, and a number of other innovative initiatives. The Institute also completed an ambitious facilities Master Plan to develop the Campus over the next decade.
Over the past 25 years he has held visiting positions at the Madras School of Economics (MSE) in India (including a position as the Director of MSE from 2003-2005, and as an Officiating Director, 2015-2017), Vanderbilt University (USA), Institute of Financial Management and Research (India), Purdue University (USA), and the World Bank (USA). At Middlebury College, he also served as an Acting Dean of Faculty, Dean for Faculty Development and Research, and Chair of the Economics Department for three terms. Ramaswamy is widely recognized for his scholarly and professional work in international and development economics, particularly on India and sub-Saharan Africa. He has co-authored and edited four books, authored scores of articles for a variety of scholarly journals focusing on development and international economics, delivered over 125 talks on four continents on subjects ranging from globalization, to economic development, to Indian economic reforms, to economics literacy. He has received recognition and awards for his teaching at Middlebury College, Madras School of Economics, and Purdue University. He and/or his views have also been featured in local, national, and international media primarily in India and USA. In 2011, the Monterey County Business Council awarded him with their 2011 Economic Vitality Award in the "Education" category. In 2014, The International School of Monterey honored him and his wife, Varna, on National Philanthropy Day. That same year, an anonymous donor gave a 7-figure gift to endow the "Sunder and Varna Ramaswamy Scholarship Fund" at the Middlebury Institute of International Studies at Monterey.
Ramaswamy is currently working on projects fostering economic reforms in India. His teaching and other academic work has been supported by grants from the Davis Foundation, Ford Foundation, Kellogg Foundation, and USAID. He has also been a consultant to UNCTAD, UNIDO, the United Nations University, and the World Bank. Ramaswamy received his doctor of philosophy degree in Economics from Purdue University, a master's degree in Economics from the Delhi School of Economics, and bachelor's degree (Honors) in Economics from St. Stephen's College, University of Delhi.